Greetings, fans and followers of
KC Bier Co. and KC Oktoberfest:
We hope you have your calendars updated and October 6th and 7th reserved for our event. We have been working hard to create a great weekend for everyone. See you all very soon!
The KC Bier Co. Team
---
Presented and organized by Kansas City Bier Company — Kansas City's largest locally owned brewery — KC Oktoberfest is a two-day festival celebrating authentic German-style bier, food, and entertainment at Crown Center in the heart of downtown Kansas City.
Modeled after the Munich Oktoberfest in Germany, KC Oktoberfest is Kansas City's largest traditional Oktoberfest. In 2022, the event drew more than 15,000 merrymakers who came to enjoy the brewery's authentic German-style bier, lively entertainment, exceptional Bavarian and American cuisine, games and competitions, and family-friendly activities — transforming an iconic regional destination into a "Munich of the Midwest."
FAQs
What are the festival hours?

Gates open on Friday, October 6th at 5:00 pm and the music stops at 11:00 pm.

Saturday, October 7th gates open at 11:00 am and the party ends at 11:00 pm.
How do I purchase tickets?

Tickets can either be purchased online in advance of the event or at the gate. If you purchase online, you may use the Fast Pass entry lane when you attend the event.

General admission tickets are $12 each during the Early Bird sale that runs through September 22, 2023. Then they will be $15 each until the start of the festival. You can purchase your tickets soon.
I don't see VIP tickets. Are they available this year?

We are not offering VIP tickets at this year's festival. Unfortunately, with the growing size of the event, we felt we were unable to provide a quality VIP experience. We may reevaluate and restructure in the future.
Do I have to print tickets at home, or can I show them on my phone at the gate?

You may either print your tickets, or show them on your mobile device at the gate at the event. If you pre-purchased your tickets online, you may use the Fast Pass entry lane when you attend the event.
Does KC Oktoberfest sell out?

No. The majority of the event is general admission seating. Only the reserved tables can sell out.
Does admission include bier, food or bier steins?

No. Attendees may purchase a commemorative festival mug on-site as well as tokens, which can be redeemed for bier. Tokens are $8 each and can be purchased at token stations on the festival grounds. There are two sizes of festival mugs available:

A .5L mug (16 oz) can be purchased for $4 (mug only). Your first bier fill and subsequent refills are $8 (one token)*.
A 1L mug (32 oz) can be purchased for $6 (mug only). Your first bier fill and subsequent refills are $16 (two tokens)*.

Food prices vary from $5 to $15 and are set by each food vendor, who will accept cash or credit card.
Can I bring my own mug into the festival?

No. Crown Center also does not allow glass or ceramic mugs on the festival grounds. In order to reduce cup waste and to abide by health code regulations, we cannot fill mugs brought from home, unless it is a plastic mug from a previous KC Oktoberfest event!
Can I use my mug or leftover tokens from last year?

Yes! If you attended a previous KC Oktoberfest event, you may bring your mug back to use at this year's event. Unused tokens from last year's KC Oktoberfest or other previous KC Bier Co. events also are valid at this year's event.
What bier will be served?

All bier served at KC Oktoberfest is brewed by Kansas City Bier Company, Kansas City's largest locally-owned brewery. KC Bier Co. brews fresh, authentic German-style bier with 100% imported German malt and hops using traditional German brewing processes. More information is available on the BIER page.
I'm not a bier drinker, but still want to attend. Will there be wine, cider or non-alcoholic beverages?

Yes! Two German wines will be available at all beverage stations throughout the festival: Riesling Kabinett, Shlink Haus / Nahe, Germany, and a red blend, The Kiss by Esterházy / Burgenland, Austria. Wines are 6 oz pours for $8 (one token).

Each beverage station also will serve a gluten-free pear cider made by KC Bier Co. in a .5L pour for $8 (one token) or in a 1L pour for $16 (two tokens).

There will also be a wine tasting opportunity featuring 6 other German wines and several presentations by Schlink House Winery.
Are any special KC Oktoberfest hotel rates available?

Yes! A special hotel block for Friday, Oct. 6 or Saturday, Oct. 7 will be available at The Westin Crown Center, on-site at the festival and the Sheraton Hotel, within walking distance of the event. Rooms include (2) general admission tickets for each night booked. Guests will receive their tickets at check-in. You can reserve yours soon! There is more information below.
Am I able to re-enter the festival if I leave?

Yes, re-entry is allowed. When exiting, you will receive a stamp that will allow you to re-enter the festival.
Does a reserved table including bier steins or bier tokens?

No. A reserved table guarantees your group a spot under the Crown Center Terrace Tent (Main Tent) near the main entertainment stage. The steins and bier tokens are purchased separately. See above for more information on how to purchase steins and tokens.
Are all tables for reservation only?

No. Reserved tables located near the Main Stage are limited to only 30 tables in the Crown Center Terrace Tent on Friday night (5–11:00 pm), Saturday (11:00 am–4:00 pm), and Saturday night (5–11:00 pm).

Please note that there are 169 additional tables available on a first-come, first-served basis where guests can sit. These tables cannot be reserved:

55 tables in the Crown Center Terrace Tent on Level 2
70 tables in the Polka Tent on Level 2 (which also has a stage and live entertainment all weekend)
44 tables in the Level 3 Bier Tent

More details on reserved tables will be posted on the Tickets page as they become available.
What music is scheduled?

KC Oktoberfest features live German-style entertainment all weekend on two stages, located under large tents with covered seating for thousands of guests, in addition to performers roaming the festival grounds. Music is that which you would hear at the Munich Oktoberfest, including traditional polka and modern/progressive polka with a focus on audience interaction and singing along to classic American popular music.

As is customary in Germany, the late night sets showcase an Alpine rock band, which is a high-energy party band that performs German-language festival songs and covers of classic American pop and rock 'n roll music, with an emphasis on singalongs. The full entertainment schedule is posted under the Entertainment page.
Is KC Oktoberfest ADA-Compliant?

The entire Crown Center complex, including the retail center and both hotels, is handicapped-accessible. Both KC Oktoberfest entrance gates have ramp options that allow access to the festival without stairs. Access to the main music tents is also available via an accessible ramp on the northeast corner of the Crown Center fountain square. That leads guests up to the blue level where the main music tents are. Handicapped-accessible parking is available on Levels 2A and 3A of the Crown Center Shops parking garage. For more information on visiting Crown Center, please visit: https://www.crowncenter.com/visitor-information.
How do I apply to become a vendor?

Fill out the vendor application linked under the Contact page. To create an authentic Oktoberfest event like that which you would experience in Munich, our food and marketplace vendors are chosen with that in mind.
How do I apply to be a festival performer?

All performers have been booked for the 2023 KC Oktoberfest. To submit an inquiry for future events, please email your interest to info@kcoktoberfest.com.
Can I switch my tickets to another day after purchasing them?

General Admission tickets can be used on either day just in case your plans change.
Is the event pet-friendly?

Per Crown Center rules, only service dogs are allowed on the festival grounds.
Can you buy tickets at the gate?

Yes, tickets can be purchased on-site at the festival entrance either day of the festival.
Is this a rain or shine event?

KC Oktoberfest offers covered seating for thousands of guests under several large tents with Bierhalle-style bench and table seating, so yes, it is a rain or shine event!
Do GA tickets allow access into the tents?

Yes. GA tickets provide entry into all public areas of the festival, including all tents.
What parking options are available (including handicapped parking)?

Festival parking will be available in the Crown Center parking garages, which will be free all weekend.
Is there a price range on food?

Food prices range from $5 to $15 and will vary among the food vendors at the festival, who control their pricing. Vendors will accept cash or credit cards for payment.
Can I bring my own food in if I have a food allergy?

Please send an email to info@kcoktoberfest.com with more information about your request, and a member of our team will assist you as soon as possible.
Is KC Oktoberfest an all-ages event/kid-friendly/family-friendly?

Yes! Admission for children 12 and under is free, and there is a free Kids & Family Activity Zone inside the festival grounds that is accessible with a GA ticket.
What games will be there?

The Games & Competitions Area will host the traditional Masskrugstemmen (stein-hoisting competition), Hammerschlagen (aka "hammer and stump" in America), Bavarian-Style "Best Dressed" competition, and other exciting games and competitions. Check out the ENTERTAINMENT page for more information. The free Kids & Family Activity Zone features a selection of traditional carnival games.
What seating is available outside the tents? Can I bring my own chair?

There is limited seating outside the larger festival tents, and plenty of standing room. You are welcome to bring a portable chair, e.g., camping chair, lawn chair, etc.
What items are prohibited at KC Oktoberfest?

Weapons, drugs, outside food or drink, non-service animals, electioneering, soliciting, bicycles, scooters, hoverboards, skates and skateboards are not allowed on the festival grounds. For the safety of all guests, all bags are subject to inspection prior to being admitted into the festival.
Festival Map
Directions/Parking
Parking is easy at Crown Center, located at 2450 Grand Boulevard, just south of Downtown.
Crown Center offers FREE parking after 5:00 p.m. on Friday and on the weekends. The retail parking garages may be accessed from Grand Blvd., just south of the Crown Center Shops main entrance.
Additional Crown Center Parking information is available on the Crown Center website.
If you are staying at the Westin or Sheraton, parking is available at a cost in the hotel garages.
Attendees can also ride the KC Streetcar from downtown to the stop at Main and Pershing on the east side of Union Station, and just one block from the festival grounds. Visit the KC Streetcar website to check out more information on the KC Streetcar route.
The Ride KC Max Bus also stops at Crown Center and our festival entrance is a short barrel roll away!
Hotel Reservations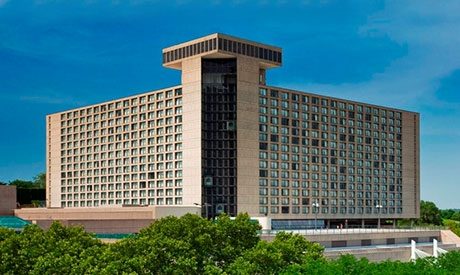 Westin Crown Center & Sheraton Crown Center
KC Oktoberfest offers prime accommodations for guests looking to make the most of their weekend, with hotel packages available at the Westin Kansas City at Crown Center, which overlooks the festival grounds, and the Sheraton at Crown Center, only two blocks away. The Westin will feature a special rate for KC Oktoberfest guests looking for an overnight stay. You must book by September 15, 2023 to receive the discounted rate.